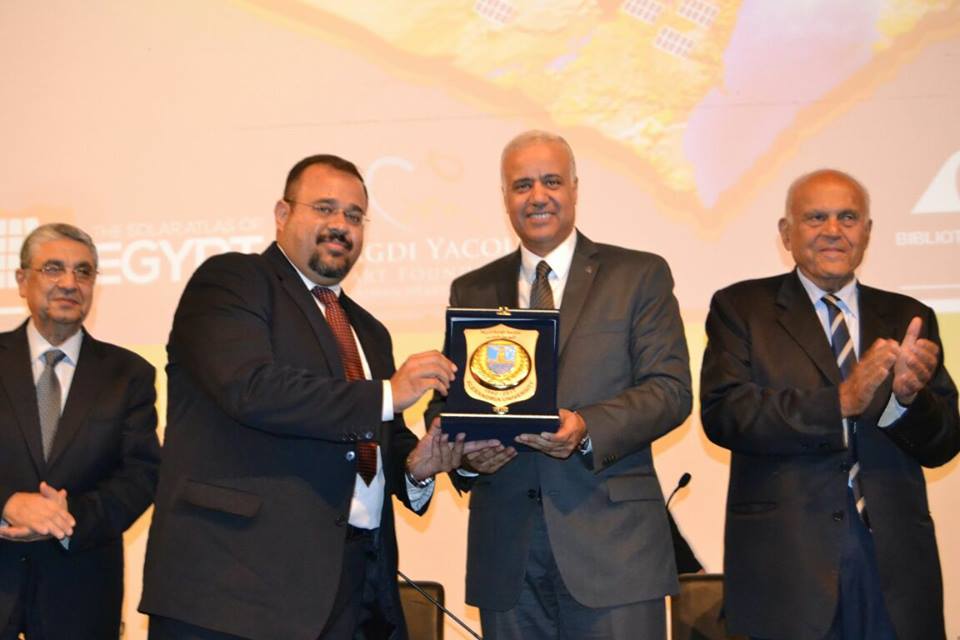 The Minister of Electricity and Renewable Energy, Dr. Mohamed Shaker stressed that the plan of his ministry is to provide 20% of energy demands by 2022 and 37% from it by 2035 to be from renewable sources. The Minister added that the variety in renewable energy is one of the important strategies of the ministry. Dr. Shaker pointed that using solar energy will reduce energy costs. He added that implementing the solar atlas which was presented by Dr. Hisham Al-Askary will improve the quality of solar energy.
This came during the celebration prepared by Alexandria University on Thursday (17/7/2017). The celebration was headed by AU President Dr. Essam El-Kurdy to honor Dr. Magdy Yaakoub the world heart surgeon and Dr. Hisham El-Askary the Alexandria University son and Professor of Geo-
science and remote sensing systems. The event was organized within the university's celebrations of its Diamond Jubilee.
Dr. Mohamed Khayat, the President of the Authority of New and Renewable Energy spoke about the future of renewable energy through some axes including new strategies and technologies. He indicated that the future vision depends on maximizing electricity production from renewable energy in Egypt like hydro-energy, solar energy and wind energy.
The event was attended by Prof. Essam Khamis, vice-minister of Higher Education and Scientific Research, Eng. Soaad Al Kholi, deputy governor of Alexandria and heads and deputies of the Egyptian universities, public and executive leaders and businessmen in addition to a lot of faculty members and students.